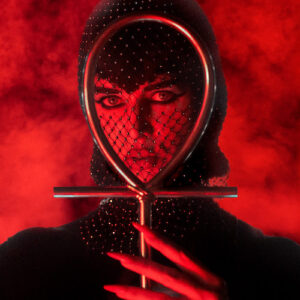 'Escape' is the long awaited follow-up to the acclaimed debut album by DESIRE which was released in 2009. One of its tracks 'Under Your Spell' notably featured in the synthwave-tinged soundtrack of 2011's 'Drive' starring Ryan Gosling.
Originally from Montreal, vivacious latex-clad front woman Megan Louise hasn't been idle, continually releasing singles, collaborating and becoming president of Italians Do It Better. Produced by IDIB head honcho and beau Johnny Jewel, 'Escape' was mixed by Vaughn Oliver. Inspired by Italian Giallo horror films, the record was constructed in Los Angeles and Palm Springs.
'Escape' is multilingual singing in English, French, and Korean while Megan Louise plays the role of vixen and villain, opening proceedings with 'Black Latex', a spoken word art piece in French and English inspired by Andy Warhol. With pizzicato interventions and glorious synth salvos, 'Telling Me Lies' does that alluring moonlit driving thing over a tom-laden drum machine backbone where "you can run but you can't hide".
"All out of trying, all out of tears" while swathed in layers of electronic sounds and a wash of emotions, 'Liquid Dreams' echoes one-time label mates CHROMATICS and is boosted by a great frequency tuning solo. But featuring current label mates MIRAGE, 'Love Is A Crime' begins with an enigmatic and semi-spoken verse which is countered by a vocodered chorus. There are dense filtered tapestries where the processed voice declares "there's no-one left to hold you" before the nostalgic tones of dial-up internet ring.
The wonderful 'Zeros' which was first released in early 2021 remains gorgeously dreamy and seductive with its sunset noir cinematics burying the past and "adding up to zero every single day". Short, sweet and sans batterie, more spoken word is presented on the sparsely vibe laden 'Dark Age'.
With elegant airy movements in Korean from ETHER's Soo Joo Park, the forlorn 'Haenim' is an electronically styled cover of the 1968 Kim Jung Mi folk song with its narrative about woman who carries a traumas from the past confirming that "some scars never heal"; the haunting synth noir reinterpretation could be considered akin to when MIRRORS covered 'Something On Your Mind' which was recorded by Karen Dalton.
"Fading slow" with a delightful burst of synthesized pop bliss, 'Ghosts' is not for when the room is quiet, especially during the blistering keyboard solos. Given a remix, the brilliantly naive escapist electronic disco of 'Escape' which imagined BANANARAMA fronting NEW ORDER doesn't quite hit the spot in this new version which is a shame in its position as the title track; the original slice of pop perfection should have been the preferred inclusion
Based around Fender Rhodes, 'The Young & The Restless' sounds like a song from a lost French arthouse movie while 11. the absorbing nocturnal electro-disco 'Days & Nights' is a gorgeously enticing highlight that glistens as "stars are shining". Preceded by the interlude 'L'Amulette De Vie', the GOLDFRAPP-like 'Friends & Enemies' utilises Mellotron flute tones to provide another sparse resigned ballad, concluding with a haunting chorus of children and a foreboding toll.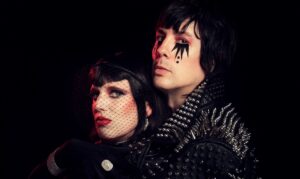 Featuring seven previously released singles and six new tracks, that's slightly more than TEARS FOR FEARS 'The Hurting' which only featured four new tracks when it came out back in 1983. 'Escape' does as its title suggests, a synth-laden soap opera with an idealistic narrative to overcome the challenges that life brings. It has been a long wait but the second DESIRE album is finally here with moments to savour.
'Escape' uses the following instruments: MiniKorg 700s, Roland Jupiter 8, Roland TR909, Mellotron, Simmons Rhythm Modules, ARP Solina String Machine, Roland D-50, Fender Rhodes
---
'Escape' is released on 3rd May 2022 via Italians Do It Better, pre-order or pre-save the album via https://idib.ffm.to/desire-escape
https://www.facebook.com/PRIMITIVEDESIRE/
https://twitter.com/primitivedesire
https://www.instagram.com/desire_musicofficial/
---
Text by Chi Ming Lai
30th April 2022