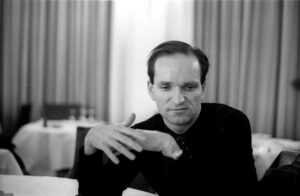 Florian Schneider, co-founder of KRAFTWERK has sadly passed away at the age of 73 after a period of critical illness.
Born into a wealthy Düsseldorf family, his father was Paul Schneider-Esleben, a noted modernist archictect who had designed the Mannesmann-Hochhaus and Cologne-Bonn Airport. Florian Schneider studied at the Academy of Arts in Remscheid.
It was there that he met Ralf Hütter in 1968 during a jazz improvisation course. They formed the experimental group ORGANISATION who released just one album 'Tone Float' as a five piece in 1970 on RCA.
However, determined to have more control over their future musical endeavours, the pair formed KRAFTWERK and issued two self-titled albums in 1970 and 1972 under the helm of Conny Plank, each featuring colour variations of the now-iconic traffic cone emblazoned on the artwork.
However, the story might have turned out differently in-between those two records. Hütter left in 1971 to continue his studies, leaving Schneider to continue performing under the KRAFTWERK name with Michael Rother and Klaus Dinger, although they soon left to form NEU!
But Hütter rejoined Schneider and they began to use pre-programmed rhythm units instead of a conventional drummer and headed towards a cleaner, more minimal path that was less kosmische and rock, certainly compared with their German contemporaries.
The pair acquired their first synthesizers in time for 1973's 'Ralf & Florian' and while Hütter took ownership of a Minimoog, Schneider favoured the ARP Odyssey alongside his trusty flute. KRAFTWERK's breakthrough came with the more electronically driven 'Autobahn' in 1974, their final album with Conny Plank and the rest is history. Their appearance on the BBC1 science magazine show 'Tomorrow's World' notably ended with a knowing grin from Schneider, as if he was plotting to change the course of popular music…
'Autobahn' was a surprise hit as an edited single in the US and with that came opportunities for touring across the Atlantic. The addition of electronic percussionists Wolfgang Flür and Karl Bartos formed the classic quartet line-up of KRAFTWERK which released the highly revered long players 'Radio-Activity', 'Trans-Europe Express', The Man Machine' and 'Computer World'.
These records were to forever change the musical landscape and influence generations of musicians in synthpop, hip-hop and dance. In the UK, KRAFTWERK finally got the recognition they deserved when their 1978 recording 'The Model' reached No1 in the singles chart in 1982, demonstrating just how ahead of their time they had been. Without KRAFTWERK, it is almost certain that TUBEWAY ARMY, ULTRAVOX, OMD, DEPECHE MODE, THE HUMAN LEAGUE, SOFT CELL and NEW ORDER would not have pursued electronics as a means of artistic expression.
But despite being considered the godfathers of modern music, things were not well in die Mensch Maschine. Ralf Hütter's cycling accident in 1983 led to the cancellation of the 'Techno Pop' album during an existential crisis in their Kling Klang studio complex. The eventual reworked album 'Electric Café' in 1986 was a disappointment and precipitated the departures of first Flür and then Bartos.
Schneider stayed loyal to Hütter and although both 'The Mix' and 'Tour De France Soundtracks' were considered underwhelming works artistically, KRAFTWERK were in demand as a live spectacle, with a notable appearance at Tribal Gathering in 1997 as well as undertaking their own successful headlining tours.
However, Schneider was known to suffer from stage fright and disliked the rigors of touring. Even within KRAFTWERK, he had become less involved in the writing process from 1977 and preferred to explore vocal processing, voice colouring technology using vocoders and speech synthesis using Votrax type 'n' speak machines as debuted on the 'Radio-Activity' album and later a Texas Instruments language translator for 'Computer World'.
Florian Schneider undoubtedly complimented KRAFWERK's robotic image with a suitably futuristic audio aesthetic. Having not appeared with KRAFTWERK since 2006 due it was said to work on other projects, it was confirmed officially that he had left the band in November 2008.
Although enigmatic, Schneider's eccentric persona won him a lot of fans, as indicated by the number of music pieces dedicated to him. David Bowie titled the 'Heroes' instrumental 'V-2 Schneider' as a tribute after the two bonded over a mutual love of vintage Mercedes cars and TUXEDOMOON's Blaine L Reininger recorded the song 'Rolf and Florian Go Hawaiian' for his 'Byzantium' album in 1987. Meanwhile in 2009, British duo KATSEN released the single 'Florian' which musically was more than a musical homage to 'Kometenmelodie 2' from 'Autobahn'.
Over the years, Schneider continued to cycle and visit music technology shows but there was no music. However in 2016, Schneider broke his musical silence and collaborated with Dan Lacksman from TELEX on the track 'Stop Plastic Pollution' to highlight the issue of ocean environment conservation as part of the campaign Parley For The Oceans.
More recently, Schneider had become less reclusive. He was photographed by Lutz Hilgers for the January 2017 edition of The Heritage Post in a variety of relaxed poses including riding tandem with a lady in a scenario that delightfully provoked the outrage of the German right wing. He was also spotted having coffee with Robert Görl of DAF and had been photographed in a friendly reconciliation with Wolfgang Flür.
It looked as though Florian Schneider had been enjoying his retirement from the music business, but was happy to use his profile for causes close to his heart.
He was a true innovator who can rightly be called a legend for his part presenting an intelligent alternative to rock 'n' roll via KRAFTWERK's concept for industrielle Volksmusik.
---
Text by Chi Ming Lai
6th May 2020