2019 was a year of 40th Anniversaries, celebrating the synth becoming the sound of pop when 'Are Friends Electric?' reached No1 in the UK chart in 1979.
While GARY NUMAN opted for '(R)evolution' and two of his former sidemen RRussell Bell and Chris Payne ventured solo for the first time, OMD offered a 7 disc 'Souvenir' featuring a whole album of quality unreleased material to accompany a concert tour to celebrate four decades in the business. That was contrary to DEPECHE MODE who merely plonked 14 albums into a boxed set in a move where the 'Everything Counts' lyric "the grabbing hands grab all they can" became more and more ironic… MIDGE URE partied like it was 1980 with the music of VISAGE and ULTRAVOX, while SIMPLE MINDS announced an arena tour for 2020 so that their audience could show Jim Kerr their hands again.
HEAVEN 17 announced some special showcases of the early material of THE HUMAN LEAGUE and got a particularly warm reception opening on tour for SQUEEZE as a trailer ahead of their own 'Greatest Hits' jaunt next year.
Celebrating 20 years in music, there was the welcome return of LADYTRON with a self-titled comeback album, while Swedish evergreens LUSTANS LAKEJER performed the 'Åkersberga' album for its 20th Anniversary and similarly GOLDFRAPP announced a series of shows in honour of their magnificent cinematic debut 'Felt Mountain'.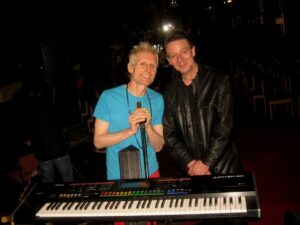 Cult favourites FIAT LUX made their intimate live comeback in a church in Bradford and released their debut album 'Saved Symmetry' 37 years after their first single 'Feels Like Winter Again'.
As a result, their fans were also treated to 'Ark Of Embers', the long player that Polydor Records shelved in 1985 when the band were on the cusp of a breakthrough but ended with a commercial breakdown.
Modern prog exponents Tim Bowness and Steven Wilson got back together as NO-MAN for their dual suite electronic concept record 'Love You To Bits', but an even more ambitious undertaking came from UNDERWORLD with their boxed set 'Drift Series 1'.
Also making live returns were one-time PET SHOP BOYS protégé CICERO with a charity gig in his hometown of Livingston, WHITE DOOR with JOHAN BAECKSTRÖM at Synth Wave Live 3, ARTHUR & MARTHA and Mute Records veterans KOMPUTER.
After a short hiatus, the mighty KITE sold-out three gigs at Stockholm Slaktkyrkan and ended the year performing at an opera house, while GIORGIO MORODER embarked on his first ever concert tour where his songs were the stars.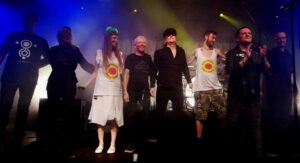 Although their long-awaited-as-yet-untitled third album was still to materialise, VILE ELECTRODES went back on the road in Europe with APOPTYGMA BERZERK and THE INVINCIBLE SPIRIT. Meanwhile, Chinese techno-rock sextet STOLEN opened for NEW ORDER on their Autumn European tour and EMIKA performed in a series of Planetariums.
Despite the fall of The Berlin Wall 30 years ago, there were more evident swipes to the right than there had been for a long time, with the concept of Brexit Electro becoming a rather unpleasant reality. So in these more sinister times, the need for classic uplifting electronic pop was higher than ever.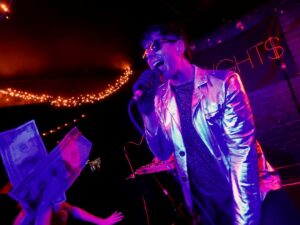 To that end, three superb debut albums fitted the bill. While KNIGHT$ offered quality Britalo on 'Dollars & Cents', the suave presence of OLLIE WRIDE took a more MTV friendly direction with 'Thanks In Advance'.
But for those wanting something more home produced, the eccentric Northern electronic pop of the brilliantly named INTERNATIONAL TEACHERS OF POP continued the artistic lineage of THE HUMAN LEAGUE.
QUIETER THAN SPIDERS finally released their wonderful debut album 'Signs Of Life' which was naturally more understated and Denmark had some worthy synthpop representation with SOFTWAVE producing an enjoyably catchy debut long player in 'Game On'.
On the shadier side of electronic pop, BOY HARSHER achieved a wider breakthrough with their impressive 'Careful' long player but as a result, the duo acquired a contemporary hipster element to their fanbase who seemed to lack manners and self-awareness as they romped around gigs without a care for anyone around them. But with tongues-in-cheeks, SPRAY continued to amuse with their witty prankelectro on 'Failure Is Inevitable'.
Italians Do It Better kept things in house as CHROMATICS unexpectedly unleashed their first album for six years in 'Closer To Grey' and embarked on a world tour. Main support was DESIRE and accompanied on keyboards by HEAVEN singer Aja, the pair took things literally during their cover version of 'Bizarre Love Triangle' with a girl-on-girl kiss in front of head honcho Johnny Jewel.
Other ITIB acts on the tour dependent on territory included DOUBLE MIXTE, IN MIRRORS and KRAKÓW LOVES ADANA. But the best work to appear from the stable came from JORJA CHALMERS who became 'Human Again'.
There were a variety of inventive eclectic works from FAKE TEAK, MAPS, FINLAY SHAKESPEARE, ULTRAMARINE, TYCHO, THE GOLDEN FILTER, FRAGRANCE. and FADER. Meanwhile VON KONOW, SOMEONE WHO ISN'T ME and JAKUZI all explored themes of equality while BOYTRONIC preferred 'The Robot Treatment'.
But expressing themselves on the smoother side of proceedings were CULT WITH NO NAME and notably SHOOK who looked east towards the legend of YELLOW MAGIC ORCHESTRA.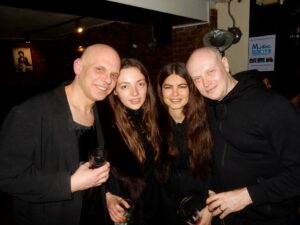 Dark minimalism reigned in the work of FRAGILE SELF and WE ARE REPLICA while no less dark but not so aggressive, WITCH OF THE VALE cemented their position with a well-received opening slot at Infest.
Touring in Europe with OMD and MIDGE URE, TINY MAGNETIC PETS unleashed two EPs 'The Politburo Disko' and 'Girl In A White Dress' as fellow Dubliner CIRCUIT3 got political and discussed 'The Price Of Nothing & The Value Of Everything'.
2019 was a year of electronic instrumental offerings galore from NEULAND, RICARDO AUTOBAHN, EKKOES, M83, RELIEF, FEMMEPOP and OBLONG, although ERIC RANDOM's dystopian offering 'Wire Me Up' added vocoder while BRIAN ENO celebrated the 50th anniversary of the first moon landing 'For All Mankind'.
The King of Glum Rock LLOYD COLE surprised all with an electronic pop album called 'Guesswork' just as PET SHOP BOYS set an 'Agenda'. HOWARD JONES released his most synthy work for years in 'Transform' and while CHINA CRISIS acted as his well-received support on the UK leg of his 35th Anniversary tour, their front man GARY DALY ventured solo with 'Gone From Here'.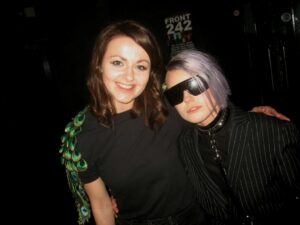 Among the year's best new talents were IMI, KARIN MY, GRETA,  GEISTE and ALICE HUBBLE with their beautifully crafted avant pop.
And with the media traction of artists such as GEORGIA, REIN, JENNIFER TOUCH, SUI ZHEN, THE HEARING, IONNALEE, PLASMIC, ZAMILSKA, IOANNA GIKA, SPELLLING, KANGA, FIFI RONG and I AM SNOW ANGEL, the profile of women in electronic music was stronger than ever in 2019.
Sweden continued to produce quality electronic pop with enjoyable releases from the likes of MACHINISTA, PAGE, COVENANT, OBSESSION OF TIME and LIZETTE LIZETTE. One of the most interesting acts to emerge from the region was US featuring the now Stockholm-domiciled Andrew Montgomery from GENEVA and Leo Josefsson of LOWE, with the catalyst of this unlikely union coming from a shared love of the late country legend Glen Campbell. Meanwhile, veteran trio DAYBEHAVIOR made the best album of their career 'Based On A True Story'.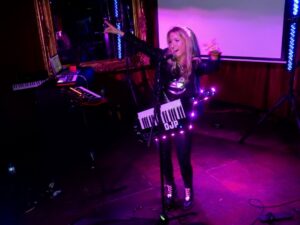 However, Canada again gave the Swedes a good run for their money as ELECTRIC YOUTH and FM ATTACK released new material while with more of a post-punk slant, ACTORS impressed audiences who preferred a post-post-punk edge alongside their synths.
DANA JEAN PHOENIX though showed herself to be one of the best solo synth performers on the live circuit, but artistically the best of the lot was MECHA MAIKO who had two major releases 'Okiya' and 'Let's!'.
Despite making some good music in 2019 with their 'Destroyer' two-parter, the "too cool for school" demeanour of TR/ST might have impressed hipsters, but left a lot to be desired. A diva-ish attitude of entitlement was also noticed by ELECTRICITYCLUB.CO.UK to be disappointingly prevalent in several fledgling acts.
Synthwave increased its profile further with the film 'The Rise Of The Synths' narrated by none other than John Carpenter. MICHAEL OAKLEY released his debut album 'Introspect', BETAMAXX was 'Lost In A Dreamworld', COM TRUISE came up with a 'Persuasion System' and NEW ARCADES were 'Returning Home'.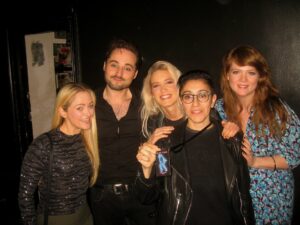 Scene veteran FUTURECOP! collaborated with PARALLELS, COMPUTER MAGIC and NINA prior to a hiatus for the foreseeable future, while there were promising new talents emerging in the shape of POLYCHROME, PRIZM, BUNNY X and RIDER.
However, several of the sub-genre's artists needed to rethink their live presentations which notably underwhelmed with their static motions and lack of engagement.
While promoters such as Outland developed on their solid foundations, others attempted to get too big too soon like the musical equivalent of a penis extension, leaving fans disappointed and artists unpaid. Attempting to turnover more than 10 acts during in a day with a quarter of an hour changeover has always been an odious task at best, but to try 15?!? One hopes the headliners were well paid despite having to go on at midnight when most of their supporters went home so as not to miss the last train…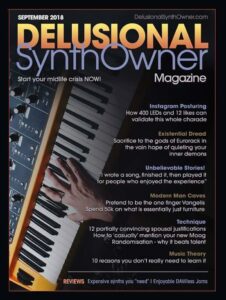 Now at times, it was as if a major collective midlife crisis had hit independent electronic music in the UK during 2019. It was not unlike how "born again bikers" have become a major road safety risk, thanks to 40somethings who only managed Cycling Proficiency in Junior School suddenly jumping onto 500cc Honda CMX500 Rebel motorcycles, thinking they were Valentino Rossi.
Something similar was occurring in music as a variety of posturing delusional synth owners indulged in a remix frenzy and visions of grandeur, forgetting that ability and talent were paramount. This attitude led to a number of poorly attended events where attendees were able to be counted on one hand, thanks to clueless fans of said combos unwisely panning their video footage around the venue.
Playing at 3:15pm in an empty venue is NOT performing at a 'major' electronic festival… "I'll be more selective with the gigs I agree to in the UK" one of these acts haplessly bemoaned, "I've played to too many empty rooms!" – well, could that have been because they are not very good?
Bands who had blown their chance by not showing willingness to open for name acts during holiday periods, while making unwise comments on their national TV debut about their lack of interest in registering for PRS, said they were going to split a year in advance, but not before releasing an EP and playing a farewell show in an attempt to finally get validation for their art. Was this a shining example of Schrodinger's Band?
Of course, the worst culprits were those who had an internet radio show or put on gigs themselves so that they could actually perform, because otherwise external promotors were only interested in them opening at 6.15pm after a ticket deal buy on for a five band bill. Humility wouldn't have gone amiss in all these cases.
It's a funny old world, but as ELECTRICITYCLUB.CO.UK comes up to concluding its tenth year as an influential platform that has written extensively about not one or two or three or four BUT five acts prior to them being selected to open on tour for OMD, luckily the gulf between good and bad music is more distinct than ever. It will be interesting to see if the high standard of electronic pop will be maintained or whether the influx of poor quality artists will contaminate the bloodline.
So ELECTRICITYCLUB.CO.UK ends the decade with a complimentary comment by a punter after attending two of its live events: "You don't put on sh*t do you…"
May the supreme talent rise and shine… you know who you are 😉
---
ELECTRICITYCLUB.CO.UK Contributor Listings of 2019
PAUL BODDY
Best Album: UNDERWORLD Drift Series 1
Best Song: MOLINA Venus
Best Gig: RAMMSTEIN at Milton Keynes MK Bowl
Best Video: SCALPING Chamber
Most Promising New Act: SCALPING
---
IAN FERGUSON
Best Album: NO-MAN Love You To Bits
Best Song: NO-MAN Love You To Shreds
Best Gig: RAMMSTEIN at Stadion Slaski Chorzow
Best Video: RAMMSTEIN Deutschland
Most Promising New Act: IMI
---
SIMON HELM
Best Album: PAGE Fakta För Alla
Best Song: PAGE Fakta För Alla
Best Gig: LAU NAU at London Cafe OTO
Best Video: LAU NAU Amphipoda on Buchla 200 at EMS Stockholm
Most Promising New Act: THE HIDDEN MAN
---
CHI MING LAI
Best Album: KNIGHT$ Dollar & Cents
Best Song: OMD Don't Go
Best Gig: KITE at Stockholm Slaktkyrkan
Best Video: NIGHT CLUB Your Addiction
Most Promising New Act: IMI
---
RICHARD PRICE
Best Album: KNIGHT$ Dollar & Cents
Best Song: OMD Don't Go
Best Gig: MIDGE URE + RUSTY EGAN at The London Palladium
Best Video: IMI Margins
Most Promising New Act: PLASMIC
---
MONIKA IZABELA TRIGWELL
Best Album: MECHA MAIKO Let's
Best Song: KANGA Burn
Best Gig: DANA JEAN PHOENIX, KALAX + LEBROCK at London Zigfrid von Underbelly
Best Video: IONNALEE Open Sea
Most Promising New Act: PRIZM
---
Text by Chi Ming Lai with thanks to Ian Ferguson
16th December 2019, updated 29th Janaury 2021