From the serene shores of Loch Lomond and the remote Outer Hebridean Isles, WITCH OF THE VALE have made a fine impression in their comparatively short period of being.
The couple's musical potential has been rewarded with support slots for CLAN OF XYMOX, ASSEMBLAGE 23, SOLAR FAKE, LEÆTHER STRIP and DRAB MAJESTY while their biggest symbol of recognition in a prestigious slot at Infest awaits them at the end of August.
Possessing some Pagan fervour like GAZELLE TWIN meeting 'The Wicker Man' and 'Twin Peaks', the folk inspired stylings of Erin and Ryan Hawthorne have chillingly stood out through the release of two EPs 'The Way This Will End' and 'Trust The Pain'.
From the latter, WITCH OF THE VALE's hauntingly bleak cover of the already explicit and sinister 'Gods & Monsters' by Lana Del Rey has become their best known recording to date. Meanwhile, an EP of remixes entitled 'Changeling' has just been released featuring a rework of the 'Trust The Pain' song itself by LEÆTHER STRIP.
WITCH OF THE VALE kindly chatted about their musical philosophy and existential ideals…
Give us a quick recap on the history of the band so far…
Erin: It started out with Ryan twisting my arm into doing one song, and at the time he promised it would just be this one song. I hadn't done anything musical in a long time and had zero confidence. We really didn't have any particular ambitions or strategy when we started doing it, and really never intended to play live shows. A drunken conversation with a local promoter resulted in our first show – a support slot for CLAN OF XYMOX. Things changed gears a bit after that.
Ryan: Our first release was only last October, so there's been a lot of firsts since then. The first time someone asked us to sign something, the first fan page, the first fan tattoo, the first time one of our musical heroes shared our music, and soon at Infest, our first festival slot.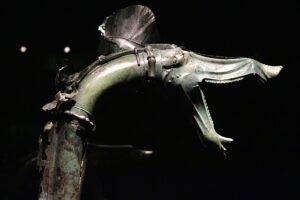 How much has your geographical background shaped the sound of the band?
Ryan: It underpins our entire sound. We use a lot of early Scottish folk inspired drones with open fifths, evolving reed based synths, strings and brassy textured sounds. The start of 'Deathwish' is inspired by the sounds of a Celtic carnyx.
Musically we draw inspiration from Gaelic folk songs. It's particularly prominent in two of our Waltz songs 'Your Voice' and 'The Way This Will End'.
There's a dreamlike quality to the music which is counter to the quite biting lyrics. How deliberate is this or does it just flow naturally?
Erin: I wouldn't say this is intentional. I think the music is pretty dark and melancholy by itself, anyway. Maybe I just can't write gentle lyrics. I do take a lot of time writing though, it matters very much to me that the words are right.
What is your approach to writing?
Ryan: We have three phases to writing a song…
Write the song
The sound comes later. It may seem obvious, but if we can't pick up some unplugged musical instruments and have it sound good, then we don't have a song. Try again.
Destroy it
Once we have something beautiful and then we ruin it. Sterilize any lingering feelings of hope in the song. We use a little distortion on everything.
Abandonment
Buried in the dirt. Left to fester on an external drive. For months a song will stay in this phase, lingering at the back of our minds like mild toothache. Eventually it's back to phase 1. Repeat the whole thing until we have something we both love enough to release.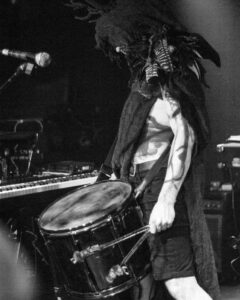 How important has playing live been to building your audience? And Ryan, do you have your own drum roadie yet?
Erin: We had shared some music online before our first shows but I don't think anyone really took note until our first gig.
Ryan: We definitely streamlined what we take with us since that ASSEMBLAGE 23 support slot in London, where you laughed yourself sick seeing us struggling with oversized, non-portable gear. As we write this, we are carrying our gear on the train to play at 'Beat: Cancer' in Manchester and Erin has a broken arm. The drum remains a necessity.
Erin, you have a very striking stage presence. How did this develop?
Erin: I'm surprised to hear that anyone thinks that, to be honest. I have horrendous stage fright, and most of what I do on stage is likely a coping mechanism for that.
Ryan: That's just what Erin looks like.
A lot of folk are quite 'anti' streaming platforms like Spotify. How do you view them?
Ryan: we both extensively use Spotify to listen to music and discover new artists. It would be hypocritical for us to criticise it. Unfortunately, you need to be an established artist to be discoverable. Without followers and appearances on prominent playlists, you won't appear on the algorithms. That's why it makes such a huge difference if you follow indie artists, share their music, and add them to playlists. Do it!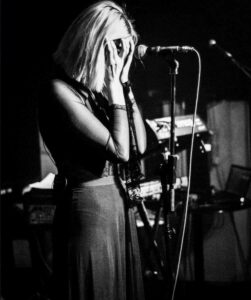 There is also a fair amount of competition between bands for support slots, coverage etc. How do you feel about this?
Erin: We've been pretty lucky in securing good support slots, actually, especially considering we really are still just getting on our feet. I don't think I've felt much in the way of competition between other smaller acts, really. We're actually a bit concerned about over-playing. You see some small artists who take every other gig they're offered, which I think isn't necessarily the best way to gain interest and a following. If you play the same clubs to the same audiences every other month… people stop coming out to see.
I go for dinner 'Chez Hawthorne' What's on the playlist whilst we eat?
Erin: FEVER RAY; their two albums on loop.
Ryan: I hope you don't mind vegetarian food by the way, accompanied by an Entrée of artists like ALICE GLASS, KANGA, THE BIRTHDAY MASSACRE, CRANES and THE CURE.
You are the latest in a long line of breakthrough bands to play Infest. Do you prepare for a show like this differently to a usual performance?
Erin: We're both quite anxious people, so preparation will likely involve drinking more than usual… so it's probably a good thing our set is quite early. We're hoping to include some new material.
After Infest, what's next?
Ryan: Tricky question, we would love to do some shows and festivals further afield, but that would require having the time and the confidence to reach out and cold contact festival organisers and promoters. We could really use some suggestions or representation in this regard. Don't be afraid to reach out to us on social media if you know someone who might want WITCH OF THE VALE on their next line-up.
---
ELECTRICITYCLUB.CO.UK gives its sincerest thanks to WITCH OF THE VALE
'The Way This Will End', 'Trust The Pain' and 'Changeling' are available direct from https://witchofthevale.bandcamp.com/releases
WITCH OF THE VALE play Infest at University of Bradford Student Union on Saturday 24th August 2019 shortly after doors open at 15:00
http://www.witchofthevale.com/
https://www.facebook.com/witchofthevale/
https://twitter.com/WitchOfTheVale
https://www.instagram.com/witch_of_the_vale/
https://open.spotify.com/artist/7axp614rqaTEKnaeQJ8F3V
---
Interview by Ian Ferguson
Additional Text by Chi Ming Lai
7th  August 2019